Regulator pendulums are compensated. They incorporate provisions to correct for changes, most commonly in temperature, but also at times for barometric pressure and changes in amplitude.
Regulator escapements were always arranged to provide the most uniform transition from the rotational force of the gear train to the oscillation of the pendulum. They were often provided with jeweled frictional surfaces to reduce wear and increase smoothness and accuracy.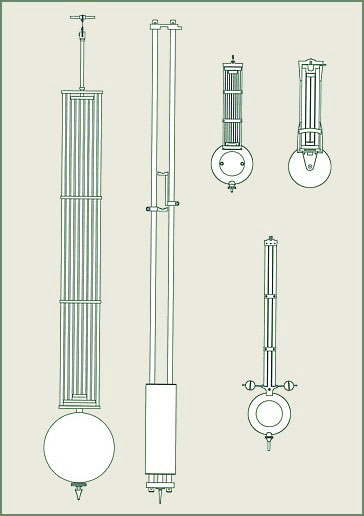 Arcadian Clock Co. pendulums
The Regulator tradition applied
In this modern age, precise timekeeping is better served by other means; the inherently flawed pendulum is not adequate for scientific quality time measurement. Nevertheless, the aesthetic impact of precision horology has not lessened. The elegant fasteners, the noble curves of the levers, the visual appeal of the hand-burnished internal corners - a thousand shared details from the multiple traditions of precision horology - are the pallete from which we draw to create our artisinal creations. We start with the art of clockmaking, and from there strive to create timepieces as art.