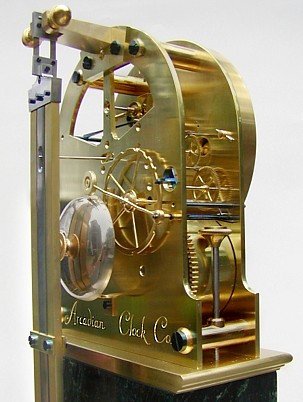 The 2/3 second pendulum is supported by a substantial bracket screwed to the top of the back plate. The suspension travels in the bracket with knurled adjusting screws for fine beat setting. The pendulum adjusts for temperature differences through Garnier's visually important "dumbbell" system of bimetallic compensation. As the steel rod expands with an increase in temperature, the brass side rods extend further, raising the pivoted compensation weights. The weights can be moved to adjust the compensation. The solid brass beat scale is a separate element, engraved on the pendulum circumference.
The remontoire, which causes the second hand to glide forward every two seconds, is visible through the windows cut away from the back plate.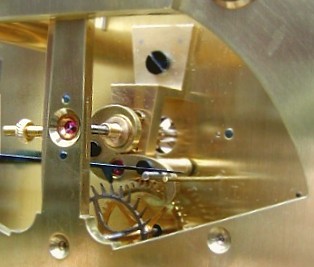 How the Remontoire Works
Rewinding on each third tick, the arbor which carries the seconds hand has a drive wheel and a 30 tooth locking wheel mounted on the same collet. This locking wheel is held by a blued steel detent. Pivoted on an arbor directly behind the 'scape wheel is a frame, with an adjustable knurled weight. This frame carries an idler gear of the same count as the 'scape pinion. Each advance of the 'scape wheel is powered by a drop of this weight. A steel pin on the frame raises with each drop, and on the third tick lifts the detent, releasing the lower train, rewinding the weight, and advancing the hands. The mass of this partially counterpoised frame avoids the need for a fly with its attendant problems.